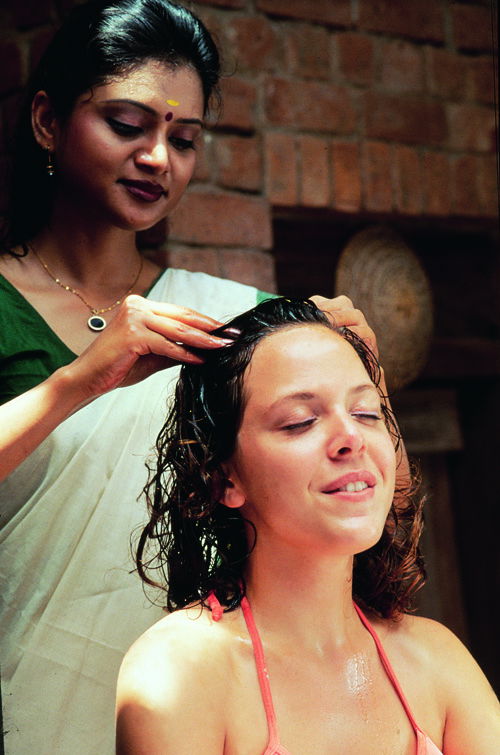 One person who really benefited from this practise was my mother, who then carried on the practises with me and my siblings from the first day we were all born, and now being a mother myself, I have done the same. ("Ayurveda" meaning "knowledge of life")
We thought we would give you the "knowledge of life" on how to practise scalp massaging at home. (Also known as Champi)
Optional: warm the hair serum in hot water for a few seconds
Apply Rebalancing Hair Regrowth Serum, this hair serum works extremely well with this practise as many of our ingredients are Ayurvedic.
Apply the serum in small quantities to different sections of the scalp by rubbing, kneading and applying pressure to the skin of the scalp with the fingers and hands for 5 to 10 minutes.
Leave the hair serum in your hair for at least 30 minutes, best results to leave it in overnight, wearing a sleep cap.
This will increase blood flow to the hair follicles, conditioning the scalp and enhancing the strength of the hair roots. It will also help in relaxing and reducing levels of stress. By opening up the blood vessels and increasing blood flow to the hair follicles, resulting in increased nutrients. The Hair follicles need an adequate supply of nutrients in order for it to grow.
The use of our hair serum during the scalp massage also helps;


Reduces the chance of the hair strands becoming brittle, split or broken.

Other conditions that can interrupt the process of hair growth, including dandruff,dry skin and many more


The added benefits of us using essential oils in our formula, such a clary sage, rosemary, tea tree peppermint, lavender…. you'll reap the benefits of inhaling these oils too. Also, all the ingredients are 100% natural so you can rest better knowing no chemicals are sinking into your scalp
When ready to wash serum out -wash and condition as normal.
We know life can get very busy but try to take the time to massage in the hair serum at least once a week, even better to get someone else to massage for you!